Sadly, Dolly is no longer with us. But she is included here because she was one of our very favourite feline Capistrano residents. Originally a conventional house cat, she was abandoned when her owner was taken into care, and she then took up residence on C/ Olivos, a few yards up from the fish pond, just above the main El Capistrano pool complex. For about a year she hid out in a clump of bushes at the edge of one of the raised front gardens here, accepting food and water, together with attention, but refusing to venture out.
Then, in an abrupt reversal of attitude, she decided that this was no life, and took up residence in the house opposite, being very well looked after by its long-term residents. Dolly lived to a ripe old age (around 18 – remarkable for a Mediterranean cat), being fondly regarded by all who knew her – even the Spanish garden staff referred to her respectfully as 'La Vieja': the old lady.
Towards the end of her life she was joined there by an unusually striped (circular, rather than straight stripes) tabby, known as Billy the Kid, due to his rather aggressive habit of biting people's ankles as they passed by - a veritable 'bandido'. In fact a previous owner, fed up with this, once took him way up into the surrounding countryside and left him there: it took him almost a week to find his way back! Since being neutered he has settled down a lot, and can often be seen around the area of the fish pond (illustrated). Incidentally, the house shown in this photograph is one of our prime rental properties in Capistrano – Casa Violetas.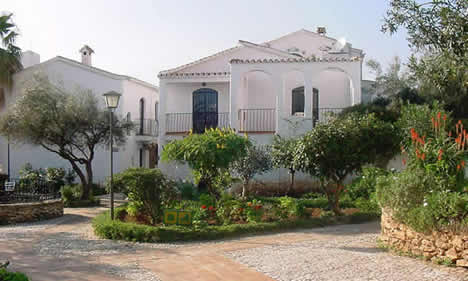 Note added in May 2017: Sadly Billy The Kid also appears to have passed on, and indeed Thelma has now moved in with his previous owner.
For more pictures of Capistrano cats, click here.