There are several areas of El Capistrano in which there are colonies of feral cats, which, although well fed and looked after, in the main failed to receive sufficient human contact when young to be readily approachable (although it is a never-failing wonder among CLIC's helpers just how readily they take to our own Henry Southworth).
One of these locations is the car park on C/ Castillo, half way up the hill on the right hand side. The cat population here is constantly changing, but notable amongst these are the very similar black and white cats named 'Southpaw' and 'Northpaw' by Henry.
Southpaw has a characteristic circular black splodge halfway down her left front leg (hence 'Southpaw'), whereas the otherwise almost identical Northpaw has a similar splodge on his right front leg. Southpaw had the honour of photographically representing the cats of Capistrano in a recent history of the development (El Capistrano – 40 Years On), by resident, Michael Bardsley.
Other cats here include a beautiful Siamese, who would clearly like to be stroked, but can't quite bring herself to trust the person concerned, numerous (further) identical black cats, tabbies, grey cats, and so on. At a recent AGM one resident complained about an abandoned car in one corner of this car park, to be immediately corrected by being told it was actually a cat feeding station (providing a safe haven underneath).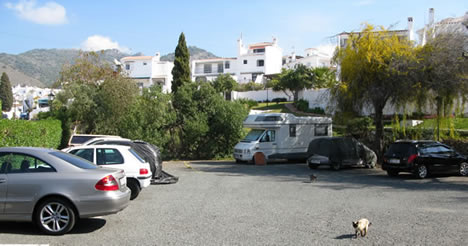 Note added December 2015. Unsurprisingly perhaps, the 'Car Park' cat population is highly fluid. 'Northpaw' has died, and 'Southpaw' has now moved in with a fulltime Capistrano resident a short distance away. More recently a very friendly white cat with various tabby attributes (named 'Tabbytail' by Henry, and 'Theodore' by Mirja) - see above opposite - was dropped off here.
Months later a tiny white kitten, with amazing blue eyes, was dumped here too, who you would swear was Tabbytail's son, having a similar shading to his ears and tail. The picture opposite actually shows them both together. This white kitten has now disappeared - being replaced by a sturdy and still growing large white cat! Originally named 'Blanco' by Henry, when he was still a kitten, he has now been re-named 'Theo' by Mirja.
One has to bow to Mirja's nomenclature, since both cats have now taken up residence with her directly, with Theo rapidly becoming the 'boss cat' over not only her other menagerie of resident cats, but also her dogs. His favourite resting place, as seen here, is a large plant pot in her garden.
To Mirja's horror two tiny black and white kittens were also dumped here very recently, but have now been found homes in her native Sweden. Inevitably the saga continues . . . . .
For more pictures of Capistrano cats, click here.